Relaxing Adventures Near The City – Grovey Floating House
By Phil Foo
When I hear the words "floating house" or "boat house," two places come to mind. They are Kenyir Lake, and Temenggor Lake up North in Perak. I recently chanced upon one that is in Sepang, Selangor. Yes, you've read it right. Sepang as in the area where the Sepang International Circuit, Kuala Lumpur International Airport, Awani Sepang Gold Coast Resort, etc. are located.
Hmmm, a floating house or boat house so near the city? How is that possible? There are no big or great lakes there. There are lakes but they are not big. Placing a floating house in any of the lakes in Sepang sounds somewhat unexciting. So, where in Sepang could this place be? Interesting and intriguing…
[    Grovey Floating House is surrounded by mangrove forests that make up the banks of the Sepang River…    ]
I recently went on a little tour of Sepang, Selangor with a group of fellow media folks, and travel agents. During our tour we headed to Kampung Tanjung Mas, Batu Dua (Tanjung Mas Village, Mile Two) to do some kayaking; mangrove kayaking to be precise. As we got nearer to our destination, I noticed water ditches that lead to a small river.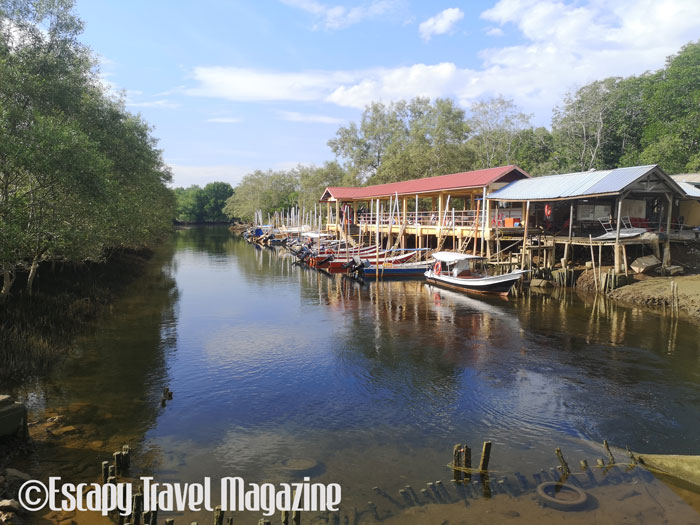 A small jetty along a little river.
When our bus stopped, we alighted and went about exploring the place. Seeing ditches and the small river, the angler part in me kicked in. I went about looking for fish. No fishes in sight but parked by the banks of this little river are boats that have been secured to a small jetty. No sign of kayaks though.
It was only when we walked all the way to the end of this little river that things started to become clearer. The little river that we have been walking along links to a larger river. That larger river is Sepang River. At the bank of this larger river is a rather long wooden platform that leads to a tranquil cozy place called Grovey Floating House that is anchored out on the River.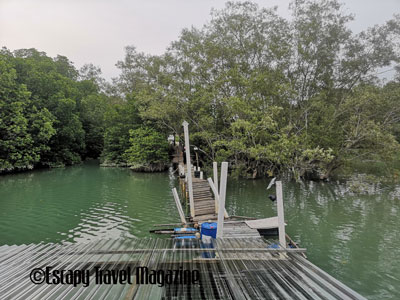 The wooden walkway that leads to Grovey Floating House.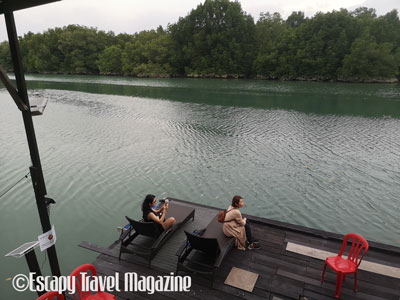 Relaxing on deckchairs at the platform of Grovey Floating House.
Peaceful Atmosphere
Grovey Floating House is surrounded by mangrove forests that make up the banks of the Sepang River. The place has a relaxed and peaceful atmosphere. Sitting here quietly one will be able to hear the birds such as kingfishers, calling out to each other. Once a while a boat passes pass and breaks the quietness of the place; but other than that, tranquillity is what one gets here.
While the Grovey Floating House is quiet, peaceful, and a tranquil place to relax at; it is also the home of river based adventures here on the river. There are guided mangrove kayaking trips and Stand Up Paddle (SUP) river trips along the Sepang River, that one can do here. The guides are really knowledgeable and are more than willing to share about the wildlife and nature around the area.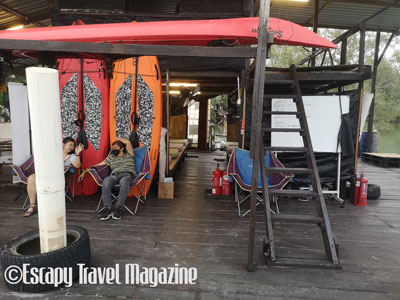 Stand Up Paddle boards (red and orange colour) standing on the wooden wall behind the ladies.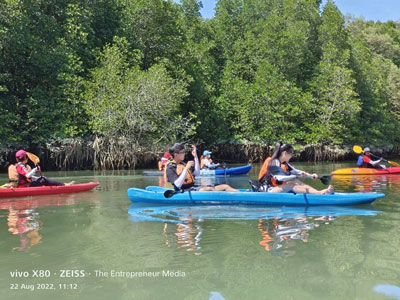 Mangrove kayaking on Sepang River. Photo Credit: The Entrepreneur Media.
Talking to one of the guides I learnt that the mangrove here is rich with all sorts of wildlife. Other than the usual crabs, fishes, snails, and shrimps; there are plenty of more interesting animals that call the mangrove home. There are monkeys, various coastal birds, otters, snakes, deer, jungle cats, and even alligators. Yes, alligators.
Knowledgeable guides are extremely important when it comes to such activities. According to one of the guides that I spoke to; the mangrove here has quite a few species of snakes. The snakes here are venomous such as kraits, pit vipers, etc. A knowledgeable guide will be constantly on the lookout for them as well as any other potential dangers before leading the group through a channel.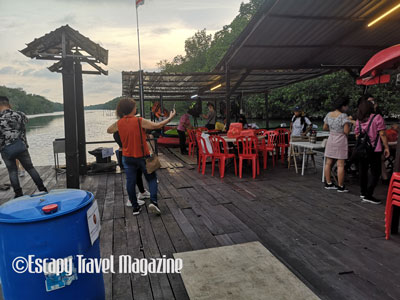 Plenty of room on the floating platform.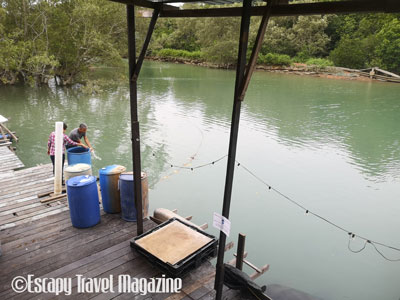 There are alligators that live in this river.
A knowledgeable guide will also be prepared to handle and manage any emergencies that could happen out here in the wild. After being told that there are alligators here, I got excited and wanted to know more. I also wanted to know how to stay safe from these gators. He says, just don't tap the water with your hands or legs. It is like calling them. See how important a knowledgeable guide is?
When it comes to alligators and crocodiles, I love seeing them. I have seen them in the wild while fishing, and for some reason they fascinate me. I asked the guide if I could see the alligators. He replied that if you go in search for them, you will most likely not see them as they are shy. They tend to stay away from humans. Ok, message received.
[  According to the guide, the biggest barramundi caught here is about 20kg…    ]
Kayaking And Stand Up Paddle
Should you be wondering if kayaking is safe here since this is a pretty deep river with fast currents; yes, they are in terms of stability. There are a few types of kayaks available. There are kayaks for beginners and for more advanced kayakers. For beginners and those who want to go kayaking with kids on-board; pontoon hull or double hull kayaks are available. These are really stable.
The kayaks available here come in various configurations. There are kayaks for 1 person, 2 persons, 3 persons, and 4 persons (fits two adults and two children). Families with young children may prefer to go with a 4 seater kayak and can go on kayaking adventures relatively safely as the kayaks provides for all round stability.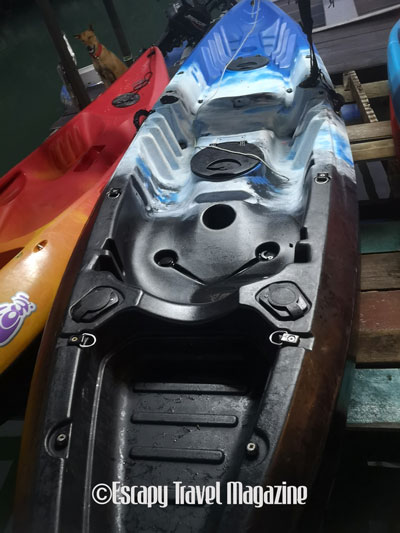 Kayaks used for mangrove kayaking.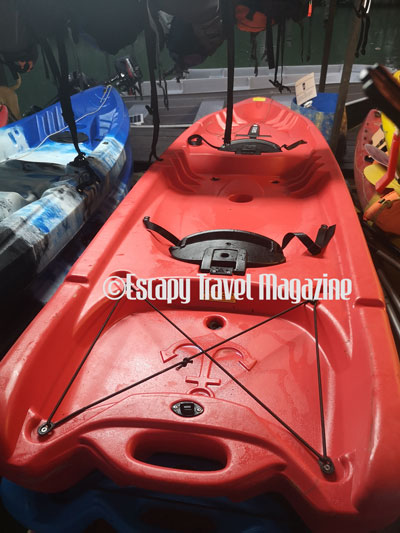 This kayak is very stable and sits four; two adults, and two children.
Amongst the kayaks there, one catches my attention. I cannot remember how many times I touched that one kayak when I was there. That is an old sea kayak; Sea Lion by Perception / Aquaterra. If not mistaken, these kayaks were the first (or one of the first) sea kayaks that were built via rotomolding and has not been in production since the mid-1990s. This kayak is definitely one to keep.
As for Stand Up Paddle boarding, this is recommended for people who have done Stand Up Paddle boarding before as it is less stable especially here on a flowing river with little waves. Personally I have not done Stand Up Paddle boarding before and cannot tell you how it is like. I wanted to give it a go but was advised not to.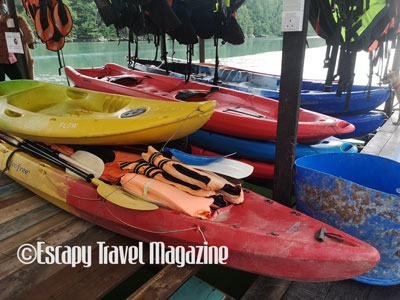 There are a variety of kayaks to choose from. Life jackets that are designed for kayaking are also available.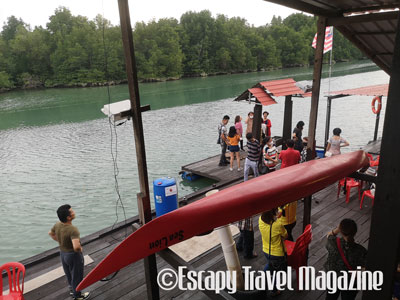 The long Sea Lion kayak; an awesome sea kayak.
According to the guide I spoke to, he does not recommend amateur Stand Up Paddlers (let alone beginners) to do Stand Up Paddle boarding here because of deep waters and fast currents of the river. Stability of these boards are not very good as they are relatively flat at the bottom. Good for water surfaces that are calm and flat. Not so good for water surfaces with waves.    
Bird Watching
The area around Grovey Floating House is a good place to do some bird watching. When I was there I saw Brahminy Kites and White-Bellied Sea Eagles (at different sections of the river), Collared Kingfisher, swallows, etc. I enquired about the birds found here and was told that there are plenty of other birds including herons, egrets, ospreys, and many more. I will definitely have to return to do some birding.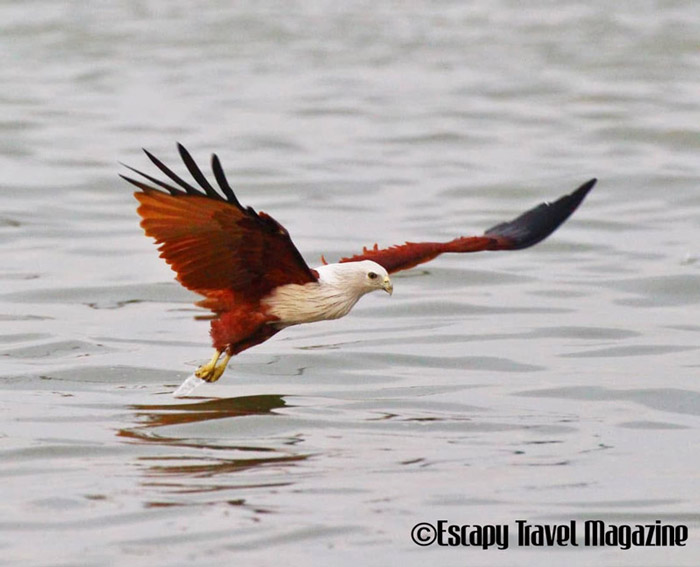 There are plenty of birds to watch and photograph here especially raptors.
Plane Spotting
This is also an awesome place for those who are fascinated with the other type of birds; planes. Grovey Floating House is located along the landing path of planes coming into Kuala Lumpur International Airport. Planes with their landing gear down fly pretty low across the Sepang River. Hanging about the platform of Grovey Floating House, I took many photographs of low flying planes.
Planes fly past on the left and the right of Grovey Floating House quite frequently. You may be wondering about the noise from the engines of these planes. Would it not be noisy, breaking the peace of the place? Well, these planes may be flying quite nearby but the sounds of the engines are not loud. Some even fly past without being heard.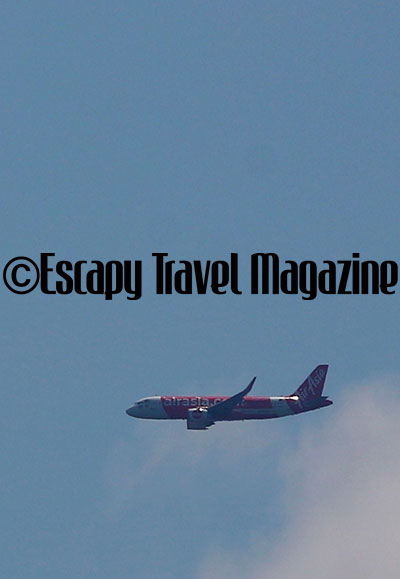 Plane spotters and aviation fans will find Grovey Floating House to be an awesome place to watch planes.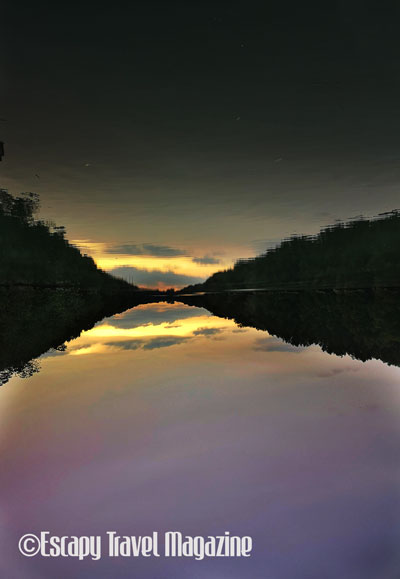 This place is great for sun chasers. One can photograph both sunrise and sunset here. This here is the sunset during my visit.
More Awesomeness For Photographers
Photographers who like chasing the sun, will have a good time here with their cameras. Grovey Floating House is a place where one can observe and shoot both the sunrise and the sunset. The sun rises on the left of the floating house and sets on the right of it. Needless to say, one will have to stay the night there to be able to shoot both sunrise and sunset. More on staying there later.
As for me, I managed to shoot the sunset during my visit. Unfortunately, the sky and atmospheric conditions were not good. There were a bunch of clouds and the rain was about to come on. Anyway, we do what we can with whatever cards that we are dealt with, right? So, I shot a "sun bridge" instead.
Fishing
This here is some pretty awesome news for anglers. Fishing can be done from the platform of Grovey Floating House. The river is said to be 30 over feet deep. I have also been told that the river is home to some big barramundis. According to the guide, the biggest barramundi caught here is about 20kg. Yes, that is really big. I am sure there are other species of fish as well.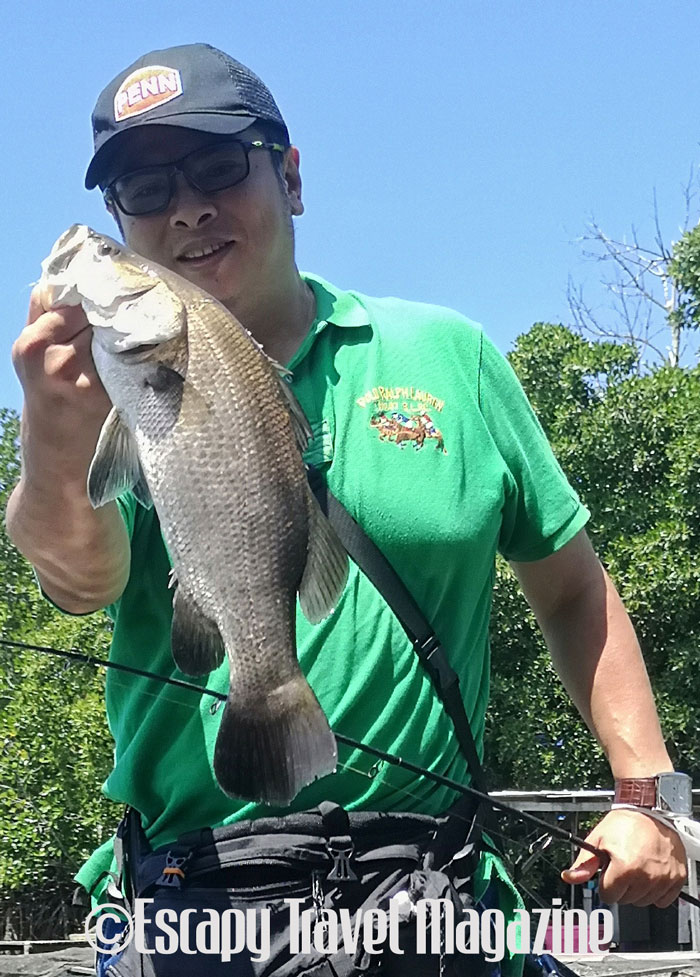 A beautiful barramundi for dinner.
I can see myself casting lures and soft baits about with the hope of catching something. Another thing I see myself doing is to simply cast out my bait, sit back, and relax. Of course fishing here with fellow fishing buddies will be plenty of fun too. After all, it is not just about catching fish but also hanging out with friends and just having a good time.
Staying Here
One can definitely stay a few nights here. I intend to do so too. There are no individual rooms here currently. There is one area with mattresses on two raised platforms (tatami style). The room is open and airy. Should you be worried about heat (such as I), worry not. Grovey Floating House has fans to keep the place cool and the electricity here is stable.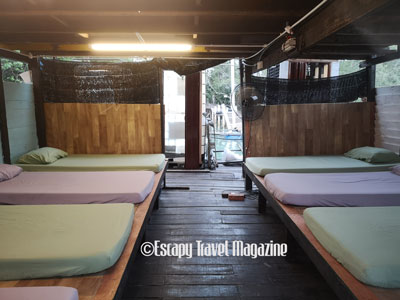 When I saw this, the Matka Kulfi, I just had to order one.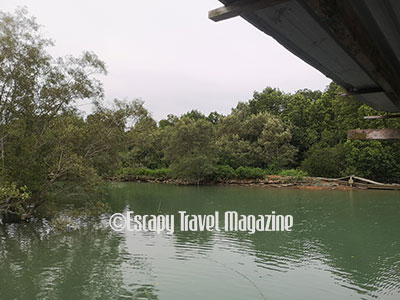 Good fishing spot just off the floating platform at the Grovey Floating House.
For the convenience of guests; there is a toilet and a bathroom. Food can either be cooked here or packed. There is a small restaurant about five minutes' walk from Grovey Floating House. It is located at the small jetty mentioned in paragraph four above. This place prepares local Malay dishes. There is also a barbecue pit should one decides to barbecue.
I'll Be Back
Grovey Floating House brings back memories of boathouses in Kenyir Lake. The difference for me is the distance. Grovey Floating House is in Selangor. It will take me about an hour and a half to get here. Kenyir on the other hand, takes about 7 hours to get to. Of course, Kenyir has elephants, tigers, etc. But to get away for a weekend and chill; this place is nearby, and easy to get to. 
Contact Details
Grovey Floating House (Outdoorgate Solutions)
Address: Jetty Kampung Tanjung Mas, Batu 2, 43900 Sepang, Selangor.
Contact: +6013-485 1228
Email: tour@outdoorgate.asia
Google Maps to Grovey Floating House.
Do Not Miss Another Issue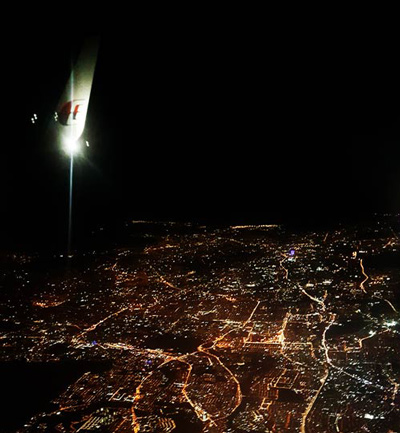 Should you have any enquiries do contact us please...