A Fun Day Out With Sirip Biru In Sepang
By Phil Foo
Sepang is a district in the southern part of Selangor in Malaysia. Within its borders are places like Cyberjaya (the Silicon Valley of Malaysia), Salak Tinggi (also known as Airport City), Kuala Lumpur International Airport, Sepang International Circuit, Bagan Lalang Beach (also called Sepang Gold Coast), etc. Sepang's coastal areas offers fun activities and one of the places to go to is to Sirip Biru.
Sirip Biru Jetty is located in Kampung Bagan Lalang (Bagan Lalang Village), Sungai Pelek or Pelek River in English. It sits on the banks of Sungai Sepang or Sepang River in English. The more observant would have noticed that Sirip Biru Jetty seems to be located on two rivers; Sungai Pelek and Sungai Sepang. Ok, before you get uncontrollably confused and lost, allow me to clear the air.
Note: Sungai = River
[    The mangrove here is home to a lot of wildlife including crabs, snakes, birds, fishes, monkeys, etc…    ]
Sungai Pelek is the name given to the area. Sungai Sepang on the other hand is the name of the river itself. So what we've got here is simply a river (Sungai Sepang) that is located in a place that was given a name that contains the word, river (Sungai Pelek). Along the banks of this river called Sungai Sepang is where the Sirip Biru Jetty is located.
If you think that this is weird, hold on to your seats. There's more weirdness to come. After all, "Pelek" is "weird" in the Malay language. Sungai Pelek can be translated to Weird River in English. The name Sungai Pelek is said to have been given to the area as it is a place where a river is formed during the high tides, and disappears when the tides are low; a weird phenomenon to those back in the day (perhaps).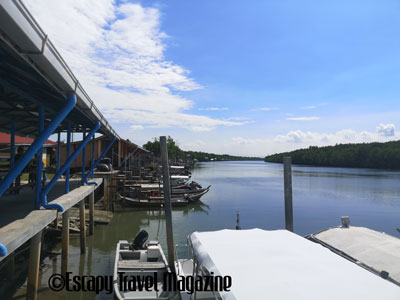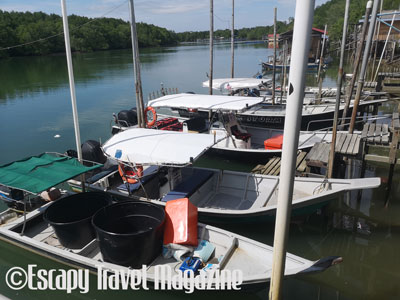 Some of the boats at the jetty.
Sirip Biru Jetty
What was once merely a jetty where fishermen docked their boats, has since been transformed into a jetty with recreational activities for visitors in general. Sirip Biru Jetty offers daily fishing trips out to sea, mangrove tours, rental of floating huts along the river, and dining. The highlighted food here are fresh oysters that are harvested from this river. Oysters here? Yes, from this very river.
I visited Sirip Biru Jetty with a group of media and travel agents that are based in Malaysia. We were given a choice of two activities; mangrove tour and mangrove kayaking. Not wanting to get wet and preferring to be trigger happy with my camera instead of exercising my arms with oars; I decided to go on the mangrove tour.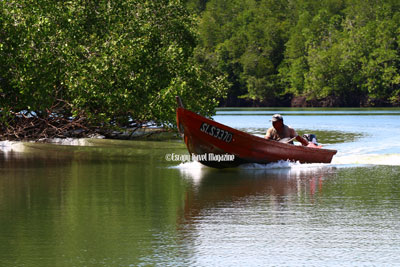 A fisherman on his boat, passing us.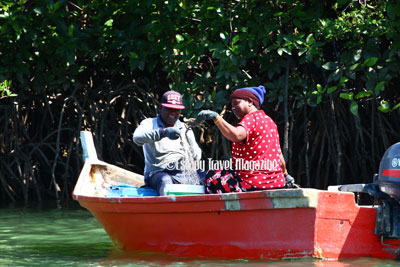 A husband and wife out on a boat catching crabs. The wife showing us one of their catch.
Here we (those who chose to go on the mangrove tour) boarded two motor boats that were about 20 odd feet in length and headed out on a mangrove tour on Sungai Sepang. With the sun shining brightly up in the sky, we took shelter under the Bimini top of the boat as we cruised along the river observing the mangrove.
Our awesome guide gave an introduction to the mangrove here as we cruised slowly along. What I learn from this is that there are 6 mangrove tree species here in the mangrove. The mangrove here is home to a lot of wildlife including crabs, snakes, birds, fishes, monkeys, etc. But due to the tide we were not able to see crabs. We saw monkeys and eagles.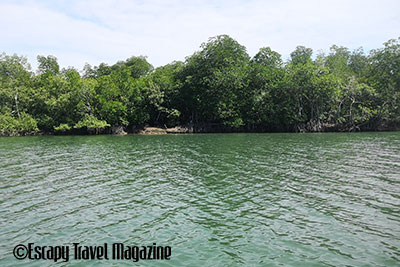 Checking out the mangrove on our river cruise.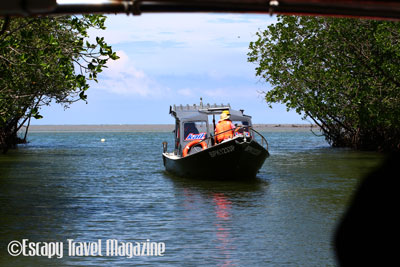 We boarded two boats. This one is following behind us as we turned into a mangrove area for photographs.
As we were cruising the river, we passed by a few little floating huts. According to our guide, these huts are rented out to people who would like to spend time out here floating on the river with friends, family, or both. The main activity that can be done at these huts is fishing. I can see myself putting up a hammock and just lazing around here, waiting for a fish to take my bait.
One thing to note is that there is no electricity supply. This means that it can get rather hot here in these huts. Great for those who don't mind some heat. Anyway, with the sea breeze blowing along the river, hanging about the outdoor area of these huts should be cooler. Those with motion sickness may find being on these floating huts to be quite uncomfortable.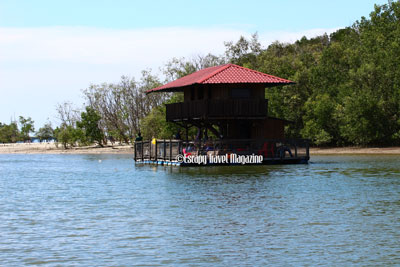 A floating hut on the river. This one has two levels. These huts have got no electricity supply.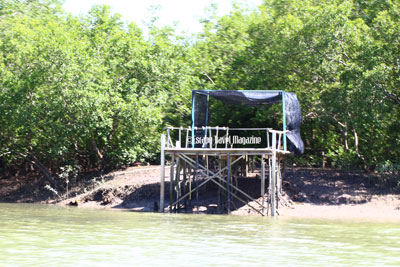 A simple hut by the banks of the river. A good place to fish at.
We then headed out to the river mouth. As we were approaching the river mouth I noticed what looked like a huge factory. This factory turned out to be a power station; the Jimah East power station, also known as the Tuanku Muhriz power station. This power station is a 2GW coal-fired power station. I didn't know that we still have coal power stations. Ignorance is certainly not bliss.
Border Cruising
This river and river mouth is a special place to be at. While we are floating about on the Sepang River which is located in Selangor, the Jimah East power station is located in Port Dickson, a coastal town in Negri Sembilan. On the right of the river (facing the sea) is Sepang in Selangor. On the left is Port Dickson in Negeri Sembilan.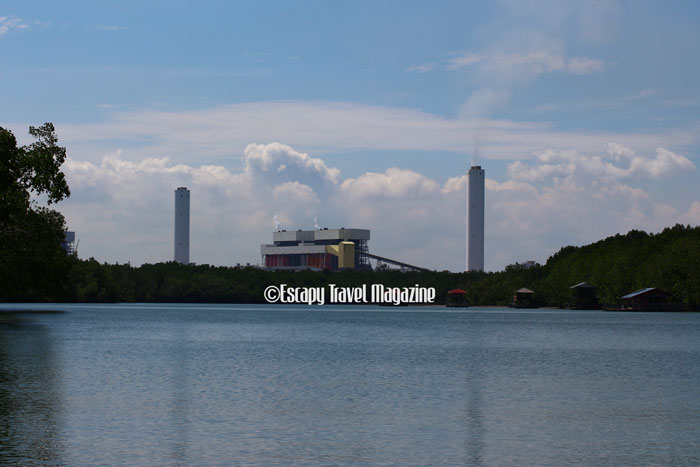 The Jimah East Power Station – Coal Powered. 
On the left of the river mouth (Port Dickson side) is a long jetty with ships docked alongside it. These ships are loading up on coal to be exported to different countries such as China. On the right of the river mouth stands the luxurious Awani Sepang Gold Coast Resort; an awesome place to holiday at in Sepang, Selangor.
This river, Sepang River; is the border that separates Selangor and Negeri Sembilan. We were cruising on this border, going up and down it observing nature on both states at the same time. How cool is that.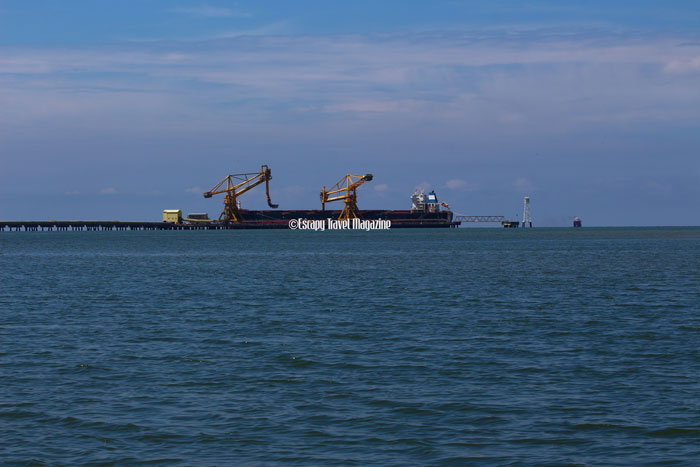 This here is a long jetty or port where coal is loaded into ships, and exported to other contries. 
Fishing Fun
From the river mouth we turned around and headed to a floating fish farm that is located on the Selangor side of the river. Here, I jokingly asked if fishing is allowed. Our guide replied, yes. What! I started hitting myself silly in my conscious mind, "I should have brought my fishing tackle." Having known that I was coming to Sepang, I did contemplate just this; to bring or not to bring.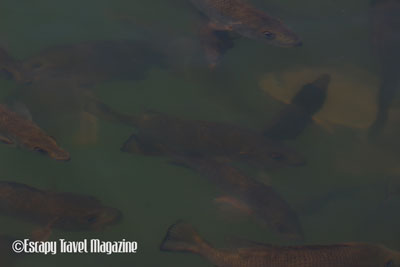 fishes swimming about at the fish farm.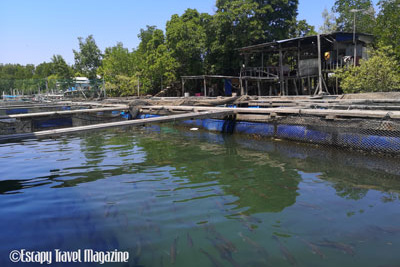 The floating fish farm at Sepang River.
I will need to use a larger luggage bag and carry a fishing rod. A little additional inconvenience and nothing more. But I decided to carry more photography equipment and not bring any fishing tackle as I was told that our itinerary would be really packed. Anyway, I wanted to do some fishing since our guide said yes. I asked if the farm rented out fishing tackle. He said no, but I could borrow one.
Yes, fishing is allowed here but there is one condition that comes with it. One will have to buy any fish that one catches. Just so you know, the fishes available here are barramundi, tiger groupers, and albino groupers. Their sizes range from the smallish below 1kg sizes to above 5kg. Barramundi is priced at RM20.00 per kg. Tiger groupers are RM45.00 per kg. Albino groupers are RM100.00 per kg.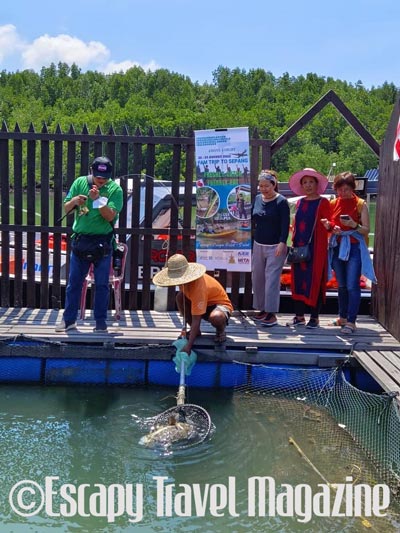 Hard fought fish landed. Oh, what fun!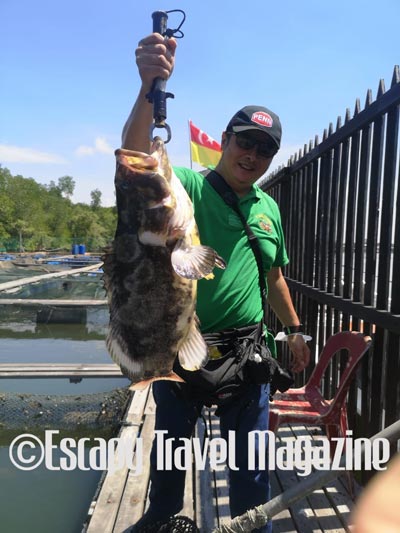 A hard fighting albino grouper caught at the floating fish farm.
Well, whatever the price is; I've decided that I will be catching at least one fish here. I asked for the rod and for some baits, and started fishing. This is the first time I am fishing in a fish farm. And I really meant inside the nets and not outside of the nets. Big time cheating indeed to most angler's standards but I am in no contest. It is all for fun.
Within a few seconds I was battling a brute. The rod bent as the fish tried to free itself. The drag of the reel was up high and this means that the pressure on the fish was high too. My arms felt the pressure too of course but after about two or three minutes the first fish came up. It happened to be an albino grouper, the RM100.00 per kg grouper. This grouper weighed over 5kg; RM500 plus for this fish.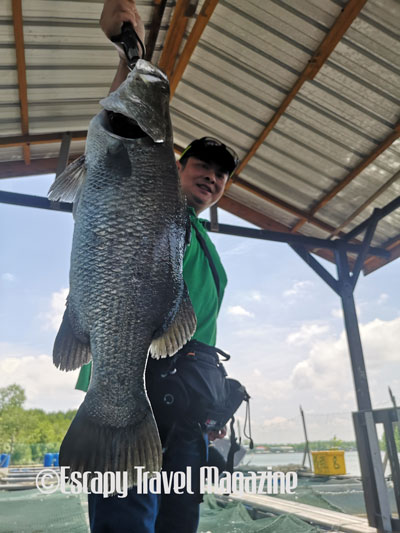 A hard fighting barramundi caught and landed. This fish weighs 4kg. Awesome fun fishing it.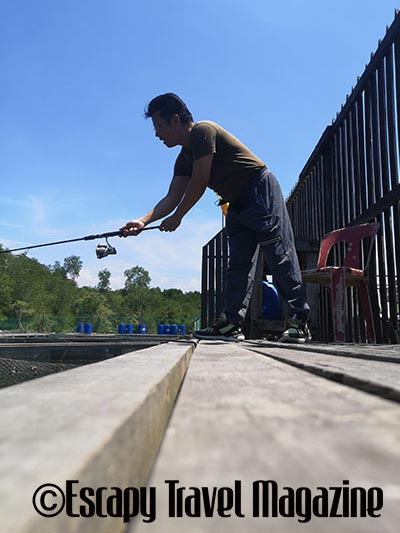 One of the participants in our trip trying his hand at fishing.
I handed the fishing rod over to another member in our group as the trip organizer (Hybrid Holidays Sdn. Bhd.) wanted to buy fish too. After a while I had another go with the rod as we needed more fish. This time a barramundi took the bait putting me through another fun workout. Within about two minutes I brought the fish up. A 4kg brute; not bad. After catching all the fishes we wanted; we boarded our boats and headed back to the jetty.
A Thing About Crocs
Being an angler, I have fished along this river. I have seen crocodiles on this river although not at the area where we are currently at, going about our mangrove tour. Crocodiles fascinate me and I was hoping to spot at least one. I asked our guide if we would be able to spot one. He said maybe. He then took us to an area where he says crocs are usually seen. Unfortunately, no crocs were home during our visit.    
Then this hit me… Crocs are indeed here in the river. One of the activities here on this river is river kayaking and some in our group are out kayaking somewhere along this same river. Weird isn't it? I feel totally safe being on board a boat like the one we took on our mangrove tour. Kayaks on the other hand are a lot lower. The person sitting on it is only a few inches off the surface of the water. Weird…
Anyway, we returned to the jetty safely with our catches. The jetty operator arranged for our fishes to be frozen and brought to the place that would be preparing our dinner. We boarded our bus and headed to Kampung Tanjung Mas Batu Dua in Sungai Pelek that is about 15 minutes away, to pick up our friends who went mangrove kayaking.
Note: Kampung = village
I Had Fun
I enjoyed myself on the mangrove tour, especially with fishing thrown into the mix. Our guide was awesome and friendly too. He was more than happy to agree to our requests to go look for birds, wait longer as we wanted to take more photos, etc. He also shared a good amount of information about the mangrove, the coal power station, the floating huts, etc. A good learning trip indeed.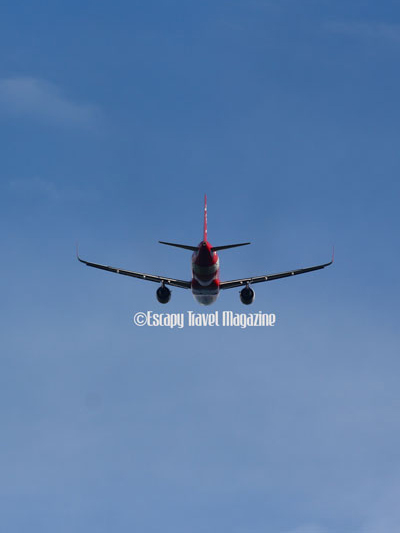 Plane spotting can be done here. Lots of planes fly by as the come in to land in Kuala Lumpur International Airport.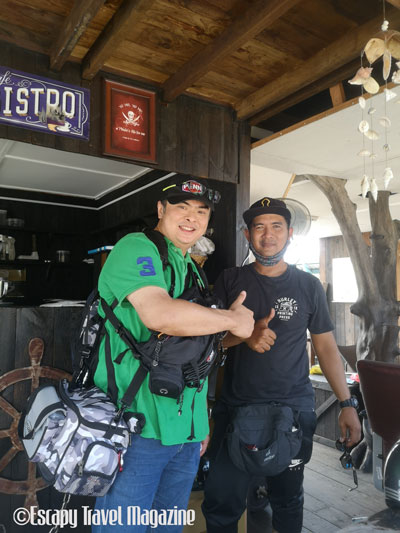 Me and Shamsul (right), our friendly guide and boatman who took us on our river cruise.
Should you be looking for a place to holiday at in Sepang, Selangor; you can consider coming to Sirip Biru Jetty. The mangrove tour is fun and educational. You could also rent one of the floating huts and just hangout by the river; perhaps do some fishing there. Should you prefer to head out to sea to fish instead; you can book a fishing guide and boat here.
Activities Available Here
-Fishing out to sea, day trip (About RM1,500 per day)
-River fishing
-Rental of floating hut (from RM300 to RM400 per day)
-River Cruise
Contact Information
Sirip Biru Jetty
Address: Jalan Kijeng, Kampung Bagan Lalang, 43950 Sungai Pelek, Selangor.
Contact: +6019-206 0443
For Bookings And More Information, contact:
Hybrid Holidays Sdn. Bhd.
Contact: +6019-310 9889
Google Maps to Sirip Biru Jetty.
Do Not Miss Another Issue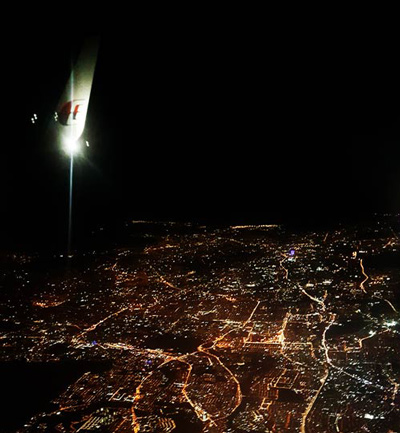 Should you have any enquiries do contact us please...