Eco Edu Park Panbil Nature Reserve Batam
By Phil Foo
Should you love animals, enjoy spending time with animals, simply have a passion for photographing animals, or simply find it fun enjoying and learning about animals; the Eco Edu Park Panbil Nature Reserve in Batam is the place to go to when you are in Batam. This park is home to various species of birds, reptiles, insects, mammals, etc.
The Eco Edu Park Panbil Nature Reserve is situated some 7km to 11km from Batam Center depending on which route you decide to take. During our visit, we were invited to visit the new Deer Sanctuary that will be opening soon. Perhaps the sanctuary would have opened by now, as it was nearing its launching during our visit. More on that later.
[    The deer species here in the sanctuary are the Sambar deer (Rusa unicolor)…    ]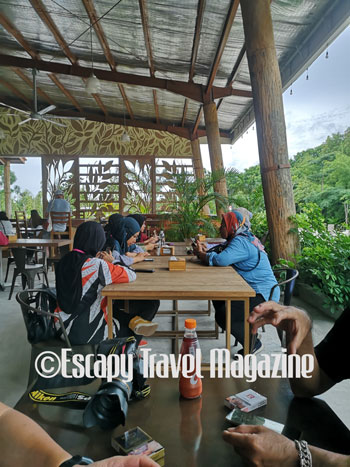 Sitting at the Atrium awaiting for our tour of the place to start.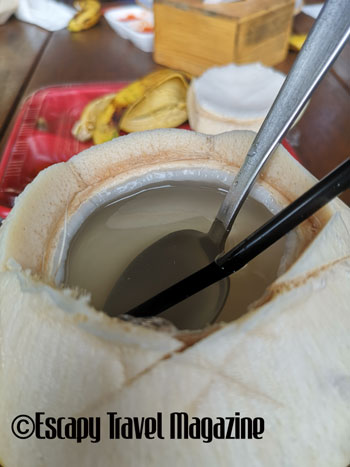 The coconuts here at the Atrium are delicious.
Upon arrival we headed to the Atrium where there are food stalls. We had a meal here and enjoyed coffee and deliciously refreshing coconuts; awesome on a hot sunny day. Some in our group headed into the shop to do some shopping. More drinks and snacks were purchased including delicious pastries. Yes, some of us are foodies and enjoy eating; me in particular.
After filling our tummies with food and drinks, we were invited to visit the Deer Sanctuary. Being an animal lover, I was excited. The catch; we will have to walk there. While walking is ok, walking up a hill with close to 10kg of additional weight from my photography gear, and also food; will certainly be a challenge. Nonetheless, challenge accepted.
Yes, the walk to the Deer Sanctuary was indeed a challenge. The slopes that we had to climb were indeed quite steep. It took a lot of effort to climb them but it was worth it. Before long we arrived at the Deer Sanctuary. We assembled near the wooden walkway that would lead us to the viewing deck as the park rangers gave us a briefing on the deer, on what to do, and also what not to do. One thing to do is to be quiet.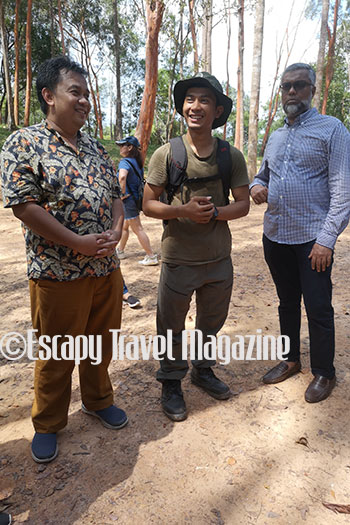 A briefing before heading into the sanctuary.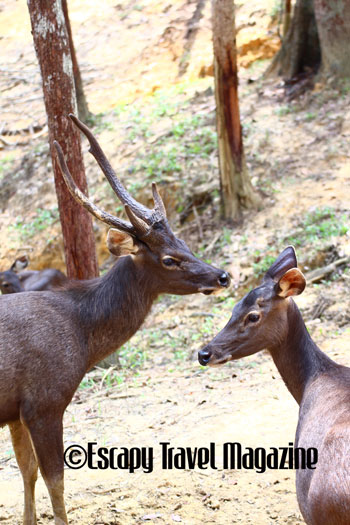 A female and male sambar deer at the sanctuary.
The Deer Sanctuary
The deer species here in the sanctuary are the Sambar deer (Rusa unicolor). Yes, scientifically called Rusa unicolor. The Sambar deer are the larger deer species found in the Indian subcontinent and Southeast Asia. They are listed as vulnerable in the International Union for Conservation of Nature (IUCN) and is in the red list.
Here at the sanctuary we got to feed them with leaves given to us by the rangers who take care of them. At first, the deer were reluctant to come towards us. After sometime of coaxing by the rangers, they walked over. It is good to see that the rangers left the decision to the deer, allowing them to decide if they want to interact with us or not.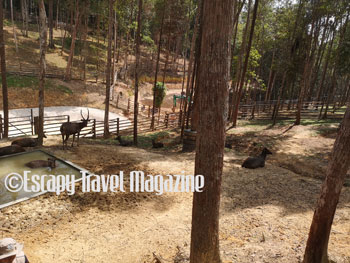 Deer hanging out at the sanctuary.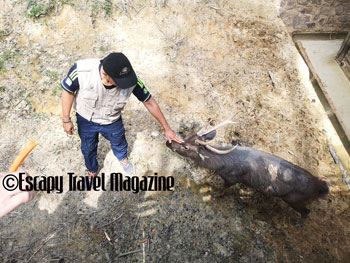 A ranger petting one of the deers.
Not all of the deer came over to say hi. Most of them just continued on with what they were doing, as if we were not there. "As if," because when I zoomed in to them I can see that they were in fact paying full attention to us. They may be facing someplace else, but their eyes were definitely locked on us. Well, I would be too if I were to be one of them. After all, we're the odd ones here.
[    They took the seeds with their beak taking care not to bite my finger…    ]
After spending time with the deer, we walked back down to the Aviary. Walking down was definitely much easier than walking up. It took us less than half the time to walk down, and for some even lesser. We headed right for the Atrium, got ourselves some refreshing drinks before heading for the Aviary; home of the birds.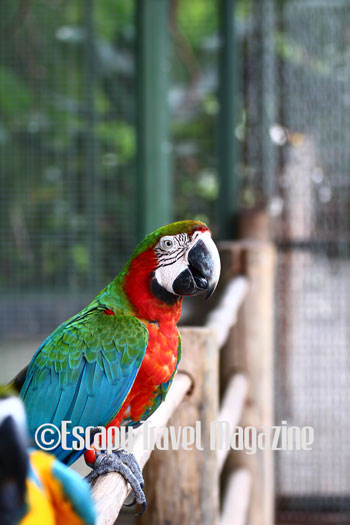 A beautiful macaw at the Bird Pavillion.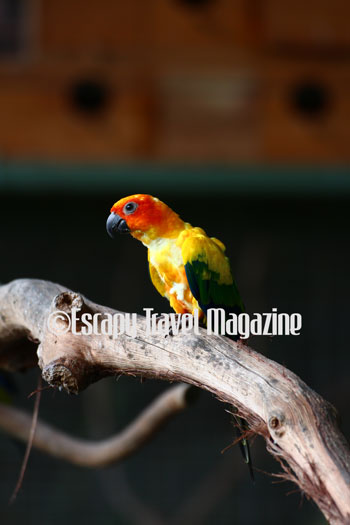 A sun conure perched on a branch.
Bird Pavilion
A short walk from the Atrium is the Bird Pavilion. Here we interacted with various birds including various colourful macaw species such as the blue and yellow macaws (Ara ararauna) and the wing clipped scarlet macaws (Ara macao), the cute and beautiful sun conures or sun parakeets (Aratinga solstitialis), the cute and punky looking cockatiels or cockatoos (Nymphicus hollandicus), a beautiful peacock, colourful jungle fowl, etc. There were also what looked like cassowary chicks.
Here we got to feed the macaws and sun conures with baked melon seeds (kuaci or guazi). I mainly fed the macaws that were gentle. They took the seeds with their beak taking care not to bite my finger. So nice of them. They were also happy to pose for the camera. The other birds that took a liking to the seeds were the sun conures. They were also awesome with cameras.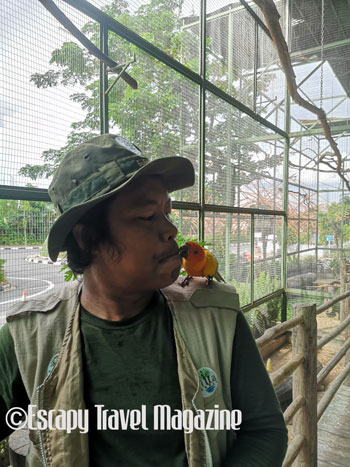 A sun conure taking a seed from the mouth of a ranger.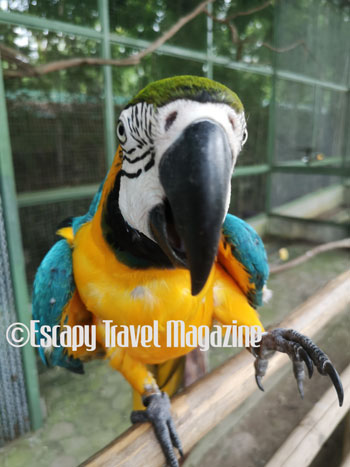 A blue and yellow macaw (Ara ararauna) wondering what I was doing with my camera.
The birds that were on the antisocial side and didn't take a liking to us were the peacock and the very colourful jungle fowl. The peacock went into hiding, while the jungle fowl stayed way up at the top, away from us. The cassowary chicks (I am not sure as they could be ostrich chicks) were a little more social. One came to checkout my camera. It almost got the lens. My reflex got the camera out of the way before it could do any harm.
Reptile Sanctuary
Next we went to the reptile sanctuary where we got to play with two pythons. One of them was the more normal dark coloured python, and the other one, a yellow and white python that was a lot larger in size. For those who have a fear of snakes, this place is definitely one to miss. We got a chance to carry the yellow python that weight over 20 kilograms in weight; heavy indeed.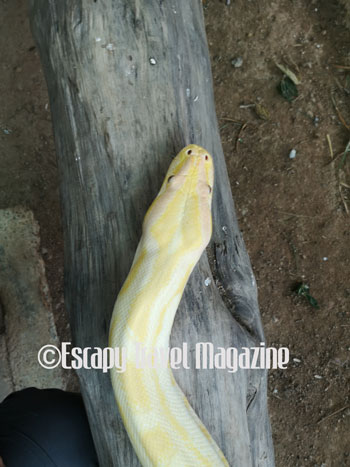 A yellow and white python at the Reptile Sanctuary.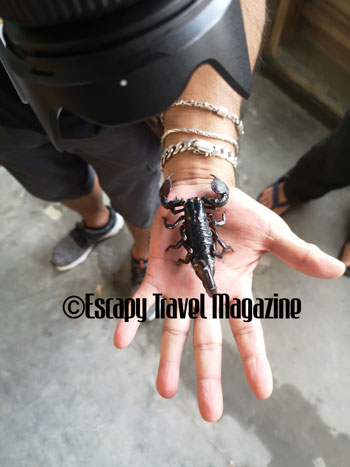 A friend messing about with a scorpion. Don't do this if you are not used to handling them.
Other reptiles that are smaller in size are kept at another part of the park (not far away). Here we handled and pet bearded dragons that are really cool looking, watch the spiny tailed lizards, and also handled a scorpion that still had its poison sack in its stinger. Be very careful should you decide to handle the scorpion too. The bearded dragons are a lot safer and they look cute too. Erm, needless to say, not everyone will find them cute.
Peacock Dome
In between the Bird Pavilion and the Reptile Sanctuary is a dome and in this dome a peacock calls home. Not just any peacock but a white peacock. While we did not get to go into the Peacock Dome and interact with the white peacock, we could take photos of the it from the outside. It certainly looks graceful in white.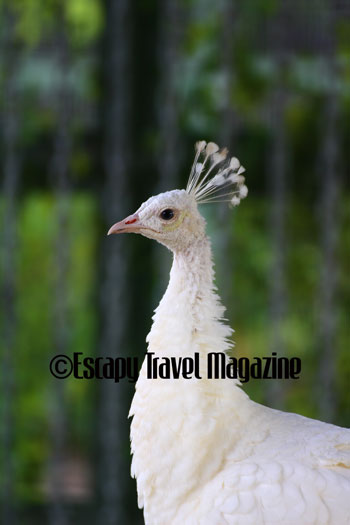 A white peacock at the Peacock Dome.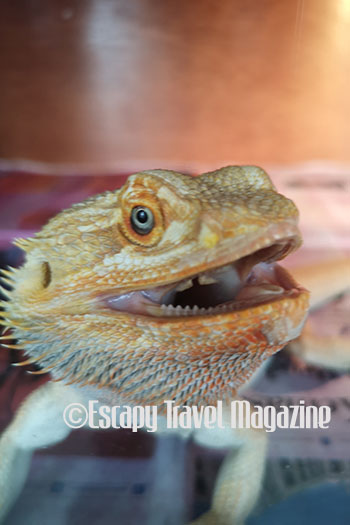 A bearded dragon getting to know us.
There's More
I missed quite a few sections as I was spending a lot of time photographing the birds in the Bird Pavilion. I also spent a lot of time playing with the reptiles, the bearded dragons in particular. They are more than happy to pose for the camera, and they don't mind being carried. They definitely look cool. But spending time with the birds and the reptiles meant that I missed out on the rabbits, guinea pigs, and koi fishes.
Things To Bring
I definitely had fun here at the Eco Edu Park Panbil Nature Reserve. Spending time with animals and photographing them is something that I love doing. Having spent time in the park, here are some things that I recommend you bring with you when you visit the park.
Hat – It gets hot and sunny
Drinking water – Can buy at the shop
Wear light clothing
Walking shoes
Mosquito repellent / patch
Camera – To record the moments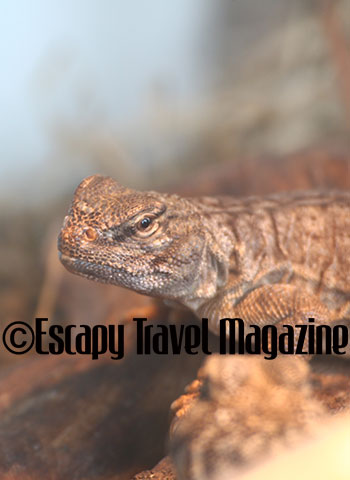 A spiny-tailed lizard posing for the camera.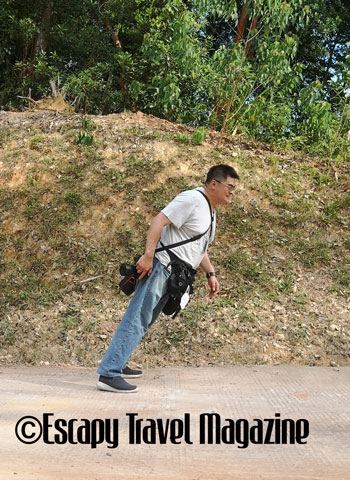 With gravity being distorted, I did Michael Jackson's Smooth Criminal signature move.
Keeping hydrated is really important. I drank two coconuts, two bottles of isotonic drinks, and a few small bottles of water after walking back from the Deer Sanctuary. That was how thirsty I got. It was a really good workout for me, especially walking up the hill with all my gear. Anyway, I do recommend going light.
Do Visit
When you visit Batam, do allocate at least half a day to spend time with the animals here. I could spend an entire day here going photography crazy, but if you are not crazy into photography, half a day would be enough. To get here you can either come by Grab or Taxi. I would prefer Grab. But if you have your own transport then the Google map coordinates below will help.
Address
Jl. Ahmad Yani, Muka Kuning, Kec. Batam Kota, Kota Batam, Kepulauan Riau 29444, Indonesia.
Google Maps to Eco Edu Park Panbil Nature Reserve Batam
Do Not Miss Another Issue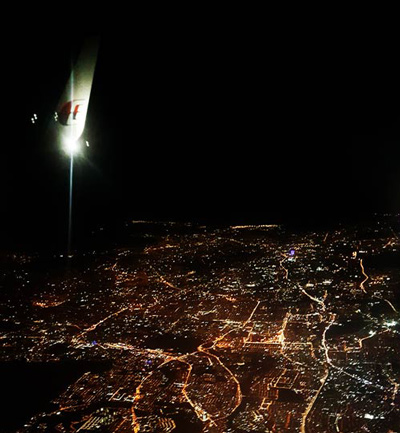 Should you have any enquiries do contact us please...