Eat Till You Drop: Makanthon
Dorsett Grand Subang
When it comes to endurance events, activities like marathons and triathlons come to mind. What about endurance eating? Is there even such a thing? Well, maybe. But what I went through recently was something like that. I ate till I was so full and satisfied but pushed myself to take just one more, and another, followed by another, till the button of my jeans had to be relieved from its duties.
Dorsett Grand Subang is currently having a "Makanthon"; an eat all you can dining adventure. It is somewhat like a buffet but instead of placing food out for diners to pick and bring back to the table, diners place their orders from a menu and the food ordered will be sent to them. This has to be done as it certainly is safer than placing food out as per the usual buffet styles especially during this current pandemic.
Mee Mamak; one of the recommended dishes here. 
The Makanthon starts at 6m and ends at about 10pm and is at The Emperor Restaurant. I arrived at about 7pm all ready to eat. I scanned through the menu, planning my dining attack. There are 49 items on the menu and they are broken into appetizers, soups, western dishes, local dishes, noodles, Chinese BBQ, Dim Sum, and desserts.
I started my dinner with Marinated Jelly Fish with Mini Octopus; a favourite of mine at Chinese and Japanese restaurants. It was delicious. I ordered more. Another item I had from the appetizer section is the Dorsett Wings of which is a fried chicken wing dish. Tasty too.
Super delicious octopus and jellyfish dish.
As for the main dishes I tried a Mahalo pan pizza (Western section) which is really a mini pizza. Not bad but I had my eyes and tummy set for other things. From the Local section I tried the Grand Mee Mamak which was recommended to me by a friend who was enjoying this dinner with me, Sweet and Sour Fish, and the salted egg prawns. I had about five pretty large prawns and could fill the space in my tummy tightening. I actually did not expect the prawns to be that big.
From the Chinese BBQ section I ordered the Pei Pa Duck cooked with Traditional Condiments. I found the duck dish to be ok. At this point I was wishing that we had more people on the table. There were only three of us and I had diverted somewhat from my plan of attack. My main target was actually Dim Sum which I most certainly did enjoy.
I had the Steam Prawn Dumplings with Coriander, Steamed Bun with BBQ Chicken, Steamed Siu Mai "Emperor" Style, Mini Loh Mai Kai which was actually of decent size, Dried Shrimp and Spring Onion Cheong Fun, Mui Choy with Chicken Meat Cheong Fun, and Deep Fried Prawn Roll with Cheese. I had a few plates of the Deep Fried Prawn Roll with Cheese. I love cheese and the cheese goes so well with the deep friend prawn roll.
Crispy on the outside, cheesy with a fresh crunchy prawn inside. Super delicious.
When it came to dessert, I had to choose. I wanted to try the mooncakes that Dorsett Grand Subang is famous for, but the desserts on the Makanthon menu look so enticing. I am almost at the brim of my "tank" and just could not take in both. Finally I decided to go for the delicious crystal skin mooncakes. Grand Dorsett Subang's signature mooncakes are the Dorsett Signature Blue Mooncake, and the Musang King Mooncake. They are delicious. Not overly sweet and they are tasty. These mooncakes are certainly a must try.
Front: Musang King Mooncake. My favourite amongst the mooncakes here because I love durians. Behind: Dorsett Signature Blue Mooncake. Delicious too. Has salted egg yolk. 
The Makanthon dining experience ended with me feeling so full and satisfied. The next time I go for another round of Makanthon, I will invite more friends. This will allow us to taste more of the dishes. There are still so many dishes that I have yet to try, and I want to try them.
This is only a small part of what we had. There were a lot more plates that had to be removed to make space for these.
Additional Information
Restaurant: The Emperor
Availability: 6th July onwards (do call to book)
Price: RM68 nett (adult)  |  RM48 nett (child ages 5 to 12)
Time: 6pm to 10pm
Note: Food wastage will be charged one adult price – 150g and above. No take-away.
Here is the Makanthon menu. Plan your attack before you order.
Other Dining Experiences
For Dim Sum lovers there is a Muslim-friendly Dim Sum Extravaganza where you gets to eat all that you can eat from the ala carte Dim Sum menu for RM88 nett per adult This is available on weekends and public holidays from 11am to 4pm.
Should you prefer to go for set meals instead of "eat all you can eat meals," the Afternoon Dim Sum set is available on Mondays to Fridays from 12 noon to 5pm at RM68 nett for two persons at the Piano Lounge. Some of the delights available on the menu are deep-fried BBQ chicken bun, steamed siew mai and prawn dumpling, deep-fried prawn rolls, steamed glutinous rice with chicken and mushroom, skewered seasonal fruits, chilled shredded chicken, mini egg tarts, etc.
Note: Do call to make booking. Information below.
Delicious 'Loh Mai Kai' or chicken (and mushroom) with glutenous rice.
Google Maps to Dorsett Grand Subang.
Do Not Miss Another Issue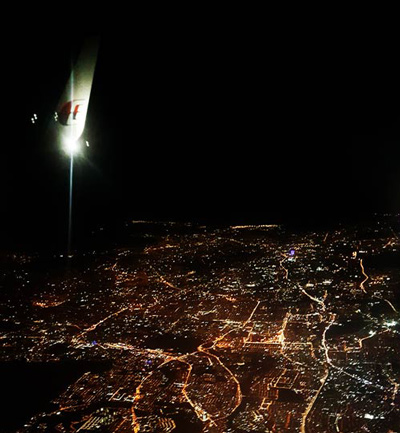 Should you have any enquiries do contact us please...