Baba Low
Tengkera, Melaka, Malaysia
The menu and green board; the only clue that this place is Baba Low.  
Malaysia is a country blessed with plenty of delicious foods. Every state one goes to, one will find delicious food. One of these states is Melaka and Melaka most certainly has plenty of delicious food. Amongst the famous food or cuisines in Melaka are Nyonya or Peranakan cuisines.  These cuisines come from the Baba and Nyonya people. With so many Nyonya or Peranakan restaurants to choose from; one can easily get confused and unsure which to go to.  
I have been to a few of them over the years, and on a recent trip I decided to give Baba Low a try. I've read about Baba Low, I have seen Baba Low in Kuala Lumpur, but I have never dined in any of them till now.
Baba Low is actually a shed. This is what the place looks like.
Baba Low in Melaka looks really unassuming. I used Google Maps to help me locate Baba Low in Melaka and it was rather confusing. I followed the directions given and ended up at a place that does not look at all like a famous restaurant. It kept bringing me back to a shed. There are no signages. The only clue that the place served some sort of food was a table with someone eating something.
In my mind I thought perhaps they (Baba Low) have moved. Anyway, I was hungry and decided to just eat something here before heading back to the hotel.
We parked the car and walked to the shed. We got ourselves a table and decided to get a menu at the counter. It was only then when I saw this little green board with the words Baba Low written on it. That board was also the menu. Well, we were in the right place but looking at the environment, I kept my hopes low.
We ordered pie tee or top hats, Nyonya laksa, popiah, and cendol (a must have when in Melaka). It did not take long before our orders started arriving.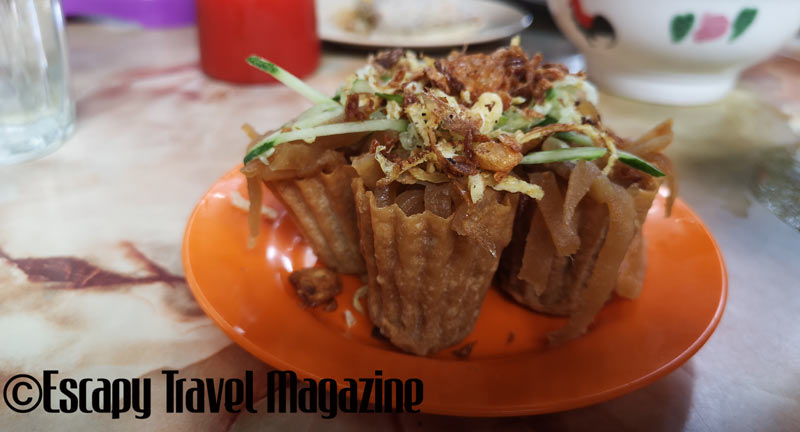 Pie Tee (Top Hat)
The first to arrive are the plates of pie tees or top hats. They are cooked strips of turnips with strips of cucumber, placed into a crispy pastry that is shaped like a top hat (hence why they are also called top hat). These starter tasted delicious. I ordered 2 plates and decided to order another. Each plate came with 5 pie tees.  They are sweet, juicy, and just so tasty. Good start to our lunch.
Nyonya laksa; fragrant, bursting with flavours, and delicious.
Nyonya Laksa
Next to come were the bowls of Nyonya laksa. They looked old school and when food looks that way, they usually taste good and they bring back a rush of memories. Of course sometimes they don't taste so good. This time they did. The Nyonya laksa tasted like those that I used to enjoy during my younger days.
The bowl of Nyonya laksa came with thick and tasty gravy. It was bursting with flavours and was not too spicy which is good for me. It came with deliciously simple ingredients such as fishballs, fried tofu, cucumber strips, etc. One ingredient that is a must have (to me) when it comes to laksa are cockles. This bowl of Nyonya laksa has them and that made it all the more enjoyable.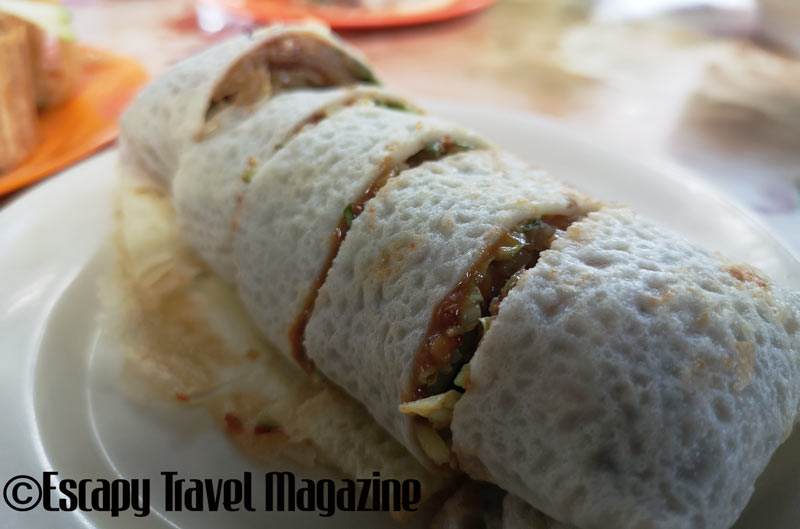 Tasty Popiah
Many recommend the popiah (spring roll) here. The popiah here comes with a wrap that is unlike most popiah wraps. The wrap looks more like a thin pancake instead of the usual white popiah wrap. The popiah is bigger in size too as compared to the usual popiah. The popiah comes with juicy turnip strips and cucumber strips (same ones as those in the pie tee), green beans, sambal (chilli paste), etc. They taste good but not unusually good. Still, worth eating.
Delicious bowl of Cendol.
 Delicious Dessert
For dessert we ordered cendol. Cendol is one dessert that Melaka is famous for. You can get this dessert all over Malaysia but when you are in Melaka you must give them a try. The one's here in Baba Low's is delicious too. The ice shaving is soft, it is not too sweet, and it is fragrant. Loved it. One thing that made it lose some points is the santan (coconut milk). I think they use packet coconut milk instead of fresh ones. 
When you visit Melaka next, do give Baba Low a try. The place may not look welcoming but the food is certainly good.
Location And Contact Details
Jalan Siantan Sek 2, Off, Jalan Tengkera, Kampung Lapan, 75200, Malacca
Google Maps to Baba Low (Tengkera, Melaka)
Do Not Miss Another Issue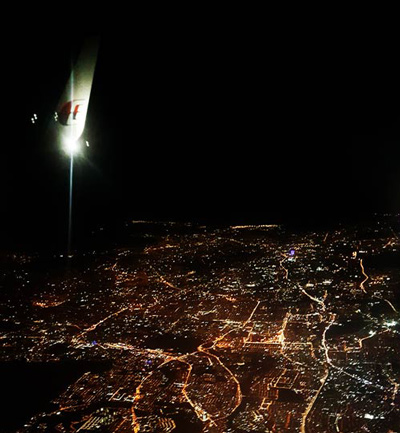 Should you have any enquiries do contact us please...