Originals Vs Fakes: Oakley Sunglasses
Information
Big brands are facing an issue. Fakes! From clothing to watches to eye-wear; there are fakes. Most of the time those who buy fakes know that they are buying fakes. Fakes are usually a lot cheaper than the originals. They also don't last as long nor do they look as good. But there are unscrupulous "parasites" who sell fakes as originals at original prices. These conmen (or con-women) do exist and many have fallen prey. I too have been a victim of such con.
I am a fan of Oakley eyewear. Oakley makes high quality eyewear that last a long time. I have had two pairs that have lasted over 10 years. One for daily use and the other is when I go on fishing trips. I still have them. However, I decided to get a new pair and went shopping for them. I visited a few optical shops (shops that specialises in eyewear) giving dodgy looking ships a miss. I then decided to purchase a pair of Oakley Crosslink Zero from a legit looking optical shop that was owned by a friendly person.
The Oakley Crosslink Zero. One is an original while the other is a fake.   
Knowing of the existence of fakes I did some research on my own and how to spot them. I tried to search for the series number at Oakley's website but Lo and behold it was down. I asked the guy at the optical shop just to confirm if the pair is original and he confirmed that they are. He added that they only sell originals and they come with a one year warranty. So, I decided to make my purchase with him. After all, nice people are certainly trustworthy, right? Damn, how wrong was I.
I later found out that the pair I purchased at the price of an original pair (no discounts were given) were fake. Within a few months the print faded. I brought it back to the shop and they insisted that it is an original and the print faded because, like many businesses they have to cut production cost and these days the quality of Oakley eyewear has gone down that route. He also went on to say that this is how it is with most of the major brands. I was sceptical but decided that maybe it's true. It was only when the nose piece broke that I decided to investigate and found out that they were fakes. Fakes that look exactly like the original ones. Some call these fakes AAA grade copies. Whatever the hell they are, they are still just fakes. The problem with these fakes is that they look so real and it is hard to differentiate them.
The Oakley Gauge 8. This here is an original.
How To Tell Fakes From Originals
While I cannot guarantee you a foolproof way to differentiate the originals and the fakes, here are some things that you can do to reduce your risk at unknowingly buying a fake.
Go to only reputable shops. While some shops do look legit and big with a vast array of brands to choose from, this does not guarantee that they are trustworthy. It is best to go to well known shops. One way to go about searching for a reputable shop is to visit the websites of the brands that you are shopping for and look for shops that they recommend. These shops are usually reputable. Do note that some of these shops may be dropped by the brands for various reasons and thus it is best to do a check every time before you make your purchases.
Look for certificates of authenticity. Well, maybe you prefer to support the smaller retailers instead of large chain stores. Sometimes these smaller retailers offer better discounts. When visiting these shops look out for certificates that are usually on display. These certificates could be certificates of authenticity given to them by the brands, or certificates of achievements that have been awarded to them. Although not a guarantee, these certificates usually mean that the products sold by them are originals. They certificates reduce the risk of one buying fakes unknowingly.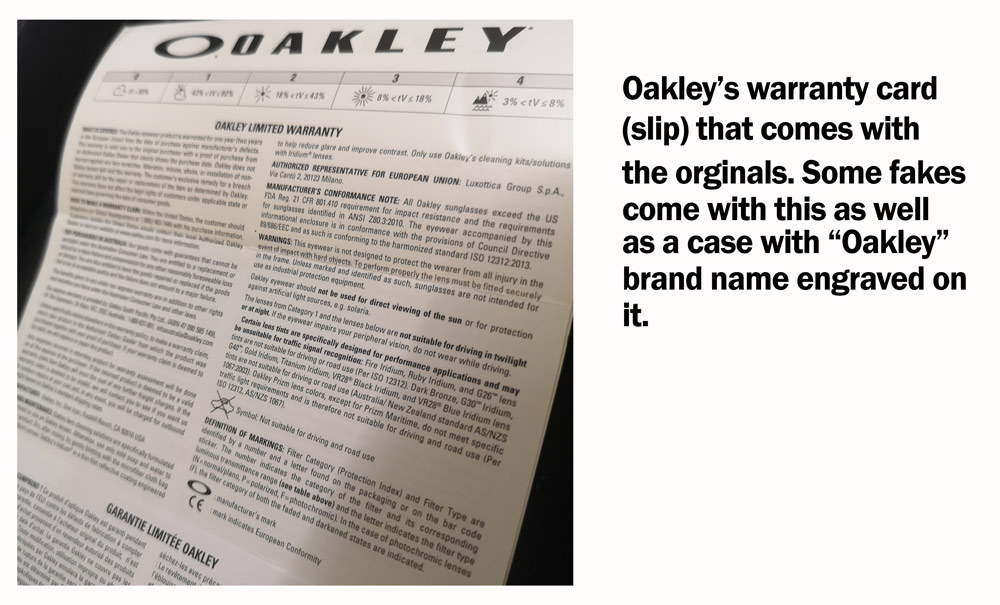 An original Oakley Limited Warranty slip that came with the Oakley Gauge 8.
Look for signs. There usually are tell tale signs that a product is a fake. It could be the paint, the materials, the stitching, differences in colour, slight differences in design, etc. Unfortunately, high grade fakes are hard to tell. They look exactly like the originals.
Low prices and unbelievably huge discounts. If the discounts offered for what is claimed to be an original is big; too good a discount to be true, it is probably a fake. Originals do go on discounts sometimes especially for off season designs. Sometimes they can be as low as 50 percent. But if you are offered a 90 percent discount on an original, be careful. It is most likely a fake.
The Oakley Crosslink Zero that I purchased at the original price. The shop ensured me that it is original. I later found out that it is a fake.
Do note also that big brands do not allow their products to be sold in less reputable places and this includes off season items. If the discount is big and offered by their recommended store or retailer, it probably is an original.
What else can you do to ensure that you do not get conned? I am not sure how safe buying branded goods online are. Personally I will not buy branded goods online (online shopping websites) except for the brand's official website. Why take the risk? First off, you do not see the item that you are buying. You only see pictures. There are a few purchases (non branded goods) that I have made online and received items that are not what I expected. Not wrong products, just below expectations. It is also a hassle to return items that you are unsatisfied with.
This here is the original Oakley Crosslink Zero that I bought at the same price as the fakes. The quality, print, etc. are a lot better.
To summarize, if you are in the market for branded original goods it is best to buy them at stores that are recommended by the brands themselves. The enticing discounts at dodgy looking shops or even good looking shops but are not in the recommended list of the said brand may not be worth your money. Better to make a smart purchase than a cheap purchase that end up to be a fake disguised as an original.
The fake Oakley Crosslink Zero above and the original below.
Bonus Article
Are Your Oakley Glasses Original Or Fakes (Knock Offs)
Having fallen victim to an unscrupulous business I have decided to find out how to identify or rather how to not get conned again.
I used to be able to tell the fakes by the way they look. The fakes used to be easily spotted with cheap paint jobs (Oakley do not paint their glasses that are plastic frame glasses), loosely fitted temple socks, uneven colours, misplaced "O" logo, sticker on the lens that leaves glue behind when removed instead of static cling stickers, and of course the price.
One way to check the authenticity of the pair of Oakley glasses is to go onto Oakley's website and do a search on the serial number or SKU number of the pair of Oakley glasses vs the model that you intend to buy. These numbers are located at the temple of the pair of glasses that you are interested in. For some reason the makers of these fakes put numbers that are not in Oakley's database or do not match the model. I do not know why they decided to go that route.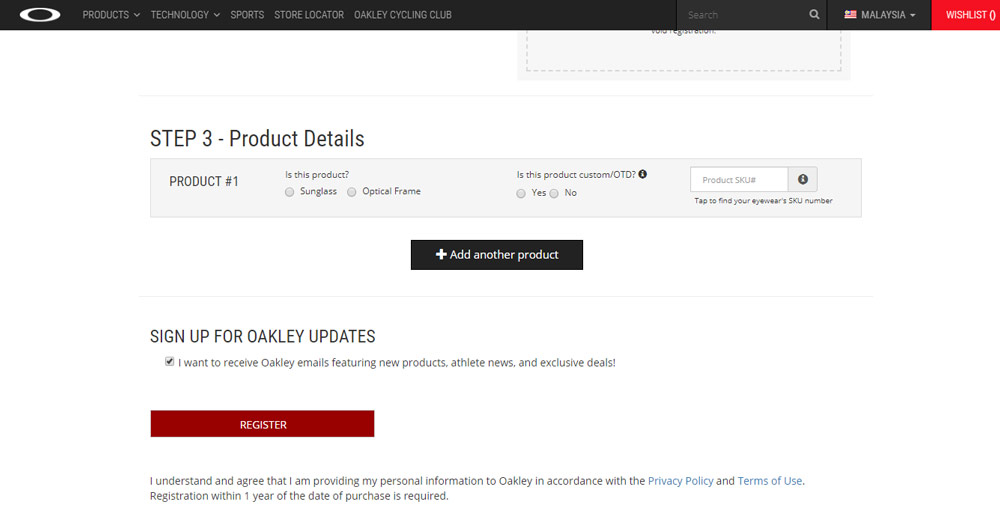 This here is where one can go to to check if the pair of Oakley is original or fake. Just key in the serial number or SKU number in the box.
https://my.oakley.com/en/register
If the number you've entered returns words in red that reads "Invalid SKU. Please check SKU or product type", it most likely is a fake. If you don't see any red words the SKU number is valid and the pair of glasses is probably original. But some products are not in the database such as custom products and it is best to reconfirm by contacting Oakley directly.
Still, the safest way to ensure that you do not get conned or cheated is still to buy from Oakley's official stores directly or from shops recommended by them.
Note: apart from Oakley there are plenty of other branded fakes in the market. Thus it is recommended to only purchase from the brands official stores or stores recommended by them.
The serial number on the temple of the Oakley Gauge 8.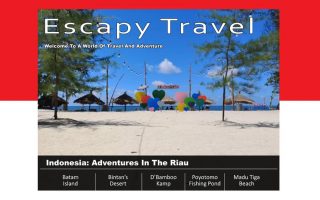 Click here to read more articles in this issue of Escapy Travel Magazine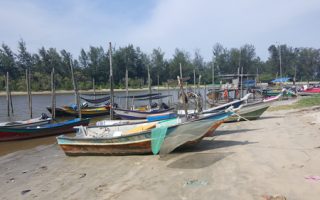 Return to the main page of Escapy Travel Magazine
Do Not Miss Another Issue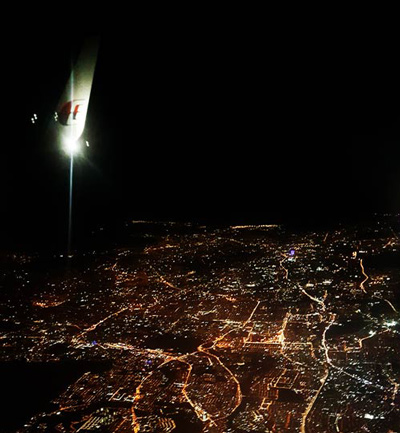 Should you have any enquiries do contact us please...